I believe civic engagement is so positively contagious that all we have to do is tell our stories better to increase our investors.  Over the course of my career, I raised over 20 Million to further civic education. 
University of Michigan Stewardship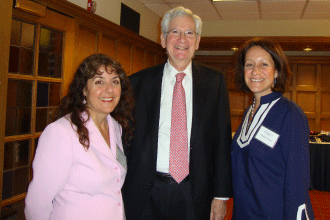 Created the 10th Anniversary celebration of the Ginsberg  family's endowing gift.
Nurtured Board relationships and funding prospects.
Cultivated and corresponded with individual donors.
Demonstrated impacts and published 2010 Annual Report.
Managed over $1.5 M budget, and created reserves policy.
Created a branding campaign including a video tribute to the endowing family.

Colorado Campus Compact

Created the 10th and Sweet 16 Anniversary Celebrations for Colorado Campus Compact where we increased membership investments while publicizing member accomplishments.
Worked with CO state commission for over a decade to obtain state-wide VISTA grant.
Trained VISTA members in fundraising and development to leverage resources for the 15 organizations they worked for under ACCESS Colorado.
Managed over $1 M budget with additional $5.5 million in student scholarships annually.
Founding Principal Investigator and later Supervising Manager to $700,000 annual UCAN Serve AmeriCorps Grant.
Founding Principal Investigator for the $338,000 Community Based Learn and Serve Grant annually ($1 Million over three years).
Created revenue stream of $100,000 in annual membership dues and affiliate partner fees.
Served as Fiscal Agent for the State Farms award of $25,000 to support K-H service learning.
Awarded $10,000 to the CO Department of Education to support K-H service learning partnerships.
Awarded $70,000 from the Kellogg Foundation through the Academy for Educational Development to replicate best practices.
Awarded $23,000 in private donations from author Paul Loeb for Campus Vote '08.
Leveraged a $5000 subgrant from the Pew Charitable Trusts into $93,000.
Cardinal Stritch University
Managed $750,000 over ten separate budgets and student accounts.
Served as the Project Assistant for the Funds for the Improvement in PostSecondary Education (FIPSE) grant.
Created innovative fundraising strategy with departmental surpluses to finance international service learning trips for students.
Trained students in fund raising for annual cultural and service immersion programs, where student teams exceeded their goals every year.